Wyckoff Wave Extending Gains Back Into The Range.
The Wyckoff Wave closed last week higher, on average volume.
We was expecting the Wave to continue still higher, and it did exactly that every day last week.  It has now worked its way back into the trading range and above resistance.
Now we have the Technometer registering overbought, so we expect this rally to slow, and/or experience a slight pullback.    If this expected pullback is constructive, we would then expect still higher.
The Technometer is overbought at 51.8.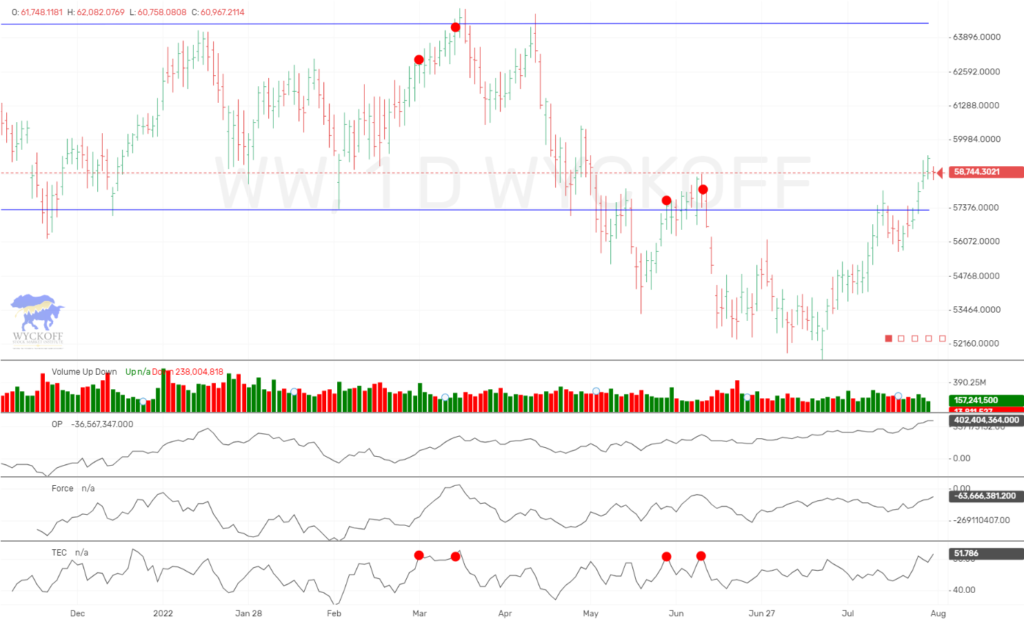 The OP and Wave are moving in unison.
WWN – The Wyckoff Wave New Index also closed higher for the week, on average low volume.   
Last week, we mentioned that the Technometer had came down to near oversold and supported higher prices, which we got.
The Technometer here is also now overbought, so lets look for a pullback here as well.  
The Technometer is overbought at 50.7.  
The Wyckoff Wave Growth Index was up slightly for the week, on continued low volume.
Same as above, the Technometer is now overbought so lets look for sideways to lower.  
Currently the Techometer is neutral at 51.0.  
The SPY extended its gains as expected, on continued low volume. 
The Technometer here is not yet overbought, so we could see possibly still slightly higher before a correction.  
We are nearing overbought at 47.9 on the Technometer.  
If you want more current up to the minute updates and trades as shown above, please join our ProTraders/Private Stock Discord.  Join Here If you are a Crypto Discord Member, and would like the ProTraders/Private Stock Discord as well, you can have access for only $20 a month.   Join Here
The bond market closed slightly lower for the week on average low volume.
The TLT has seen some slight weakness back into the recent trading range.   Let's look for a rally back to the resistance, and see how the TLT reacts at that level once again.
The Technometer is neutral at 45.3.
The GDX traded the week only slightly higher on low volume.
We feel this market is trying to establish a low, but no strong indications that is occurring as of yet.  Technometer is now extreme overbought so probably not a strong rally out of here as of yet.   Let's see how it acts if we pullback some this week.
Technometer is extreme overbought at 55.3.
The Wyckoff Wave Metal Index is in the same position as GDX. 
The Technometer currently overbought at 51.6.
The long dollar ETF, UUP closed the week lower on low volume.
This market we think has topped, but it was oversold last week so we was looking for a rally.  It is still near oversold, so lets watch early in the week for a rally and a short setup.
The Technometer is near oversold with a reading of 41.0.
Bitcoin followed stocks slightly higher once again.    
We have been looking for some backing/filling here which is what we are still getting.   We expect some more two sided traded, before higher.    
Our Technometer for Bitcoin is near neutral/overbought at 46.2. 
IMPORTANT ANNOUNCEMENTS: 
We launched our WyckoffSMIChina.com site late March, for our China community.  Check it out!
We have just released a lower cost version of our Unleashed Course, which is an excellent value at $349.99.  
Click Here Our new "Pulse of The Market" charting software for Cryptocurrrencies is now showing consolidated volume from over 140+ exchanges.  This is utmost important when applying Wyckoff Technical Analysis.   We are showing this software in use on our social media sites, and will be launching for subscription in near future. 
We have an active Discord channel where we discuss the Crypto markets.  We have had huge success and if you trade Bitcoin you might like monthly access at $40 a month. Join Here
Due to the demand for Bitcoin/Cryptocurrency information and trading knowledge, we released a Cryptocurrency and Wyckoff Trading Course at our site, LearnCrypto.io   This course is being offered at an affordable $299.99.  We have had 1029 students enroll since its launch on June 22, 2017.    On June 28th, 2018 we added lessons detailing the OP, Force, and Technometer and how to use these Wyckoff Tools for analysis.
If you are interested in Wyckoff stock chart analysis as well as Cryptocurrency, search "Learn Crypto / Wyckoff SMI" or click this link https://www.youtube.com/channel/UCDxK2PwEDvoaHZgjPV_WgcA Please subscribe and click the bell to be notified of our upcoming broadcasts.
If you would also like to follow us on twitter for news and trade ideas, follow "WyckoffonStocks", "LearnCryptoShow", or "WyckoffonCrypto".   We have given numerous profitable trades to our subscribers on the Youtube channel, as well as Twitter.  
Good Trading,
Todd Butterfield