Monero (XMR) Register Double-Digit Gains Even as Hash-Rate Plunge
Monero Price Analysis
Fundamentals
Like hard, fiat money, Monero is anonymous. However, it doesn't stop there. The coin is perfect for the internet, is digital, blockchain based and global meaning that it bears some properties like Bitcoin but with added privacy features.
With a blend of fungibility and privacy, Monero demand is on the rise and preceding today's super rally is April 1 stellar performance. By yesterday's close, the 13th most valuable coin was up 12 percent thanks to supportive fundamentals that Tokenomy Exchange, with bases in Indonesia, will be offering support to the world's first privacy-centric coin.
"We are thrilled to announce that Monero (XMR) is listed on Tokenomy Exchange and Tokenomy members can trade Monero (XMR) now! Monero adds variety Tokenomy's offering of privacy coins, following ZCash's recent addition to Tokenomy exchange. While ZCash has been referred to as one of the most important projects in the entirety of the crypto space, Monero brings unique value to those seeking anonymity completely."
Aside from exchange listing, Monero developers are striving to make the network ASIC resistant, upgrading on many occasions to prevent ASIC miner dominance. Their last fork, Boron Butterfly, did affect the network's hash rate confirming reports that ASIC miners dominate Monero chain as nonce pattern shows.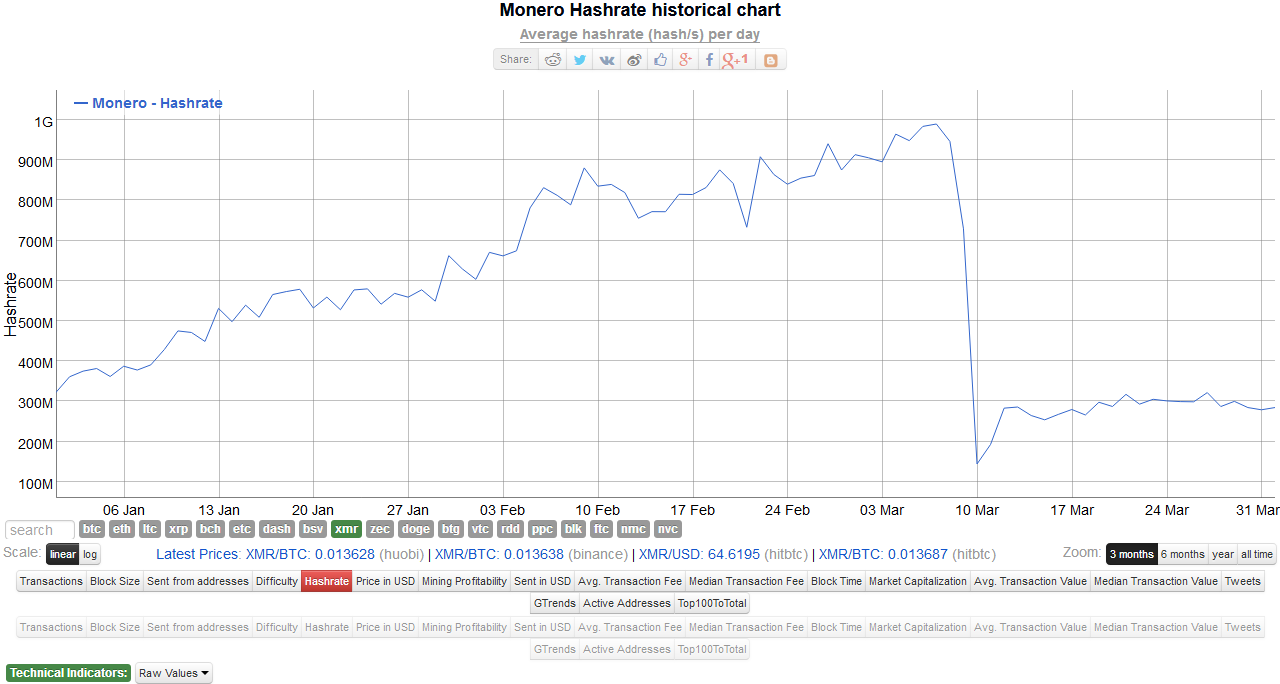 Candlestick Arrangement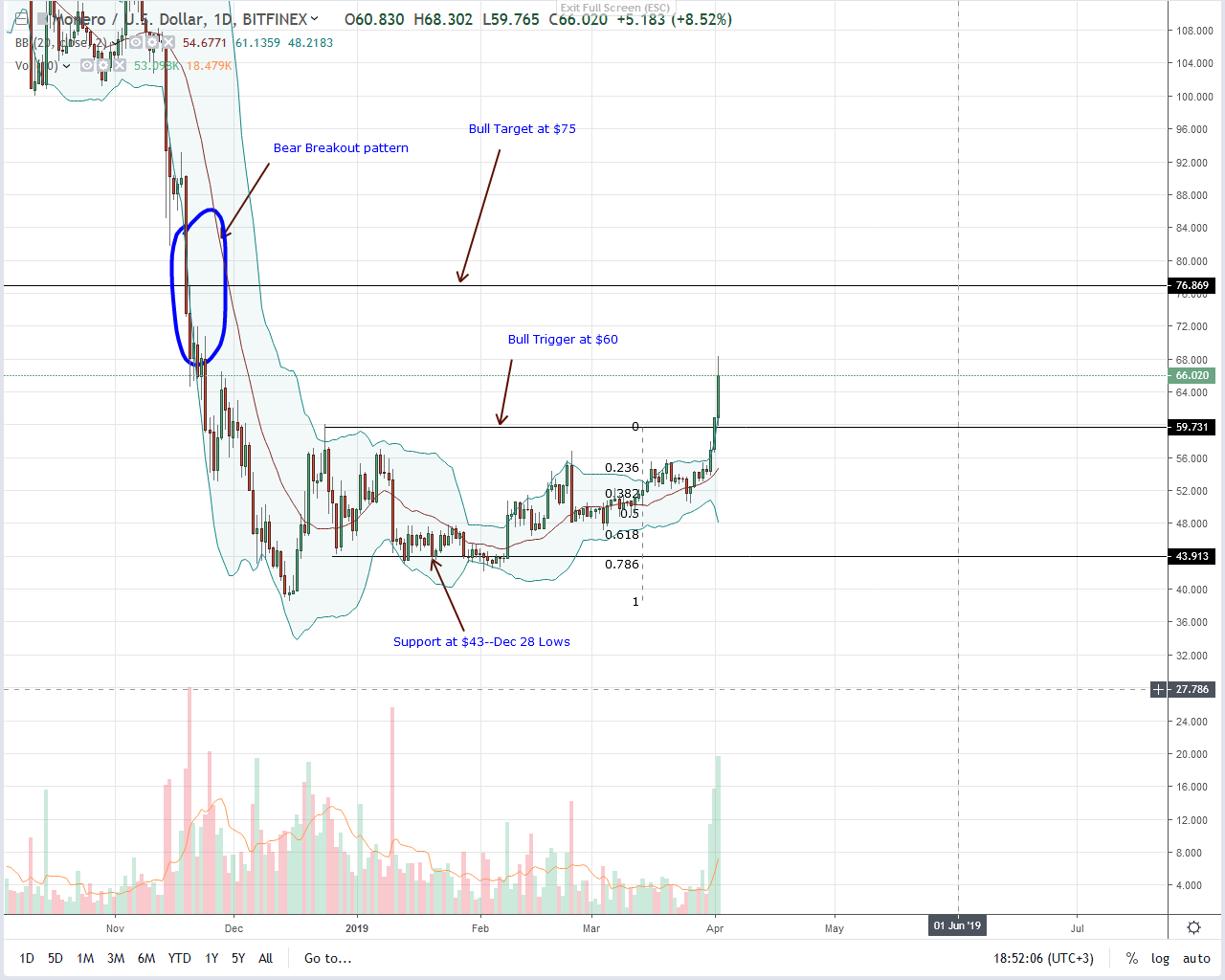 On the chart,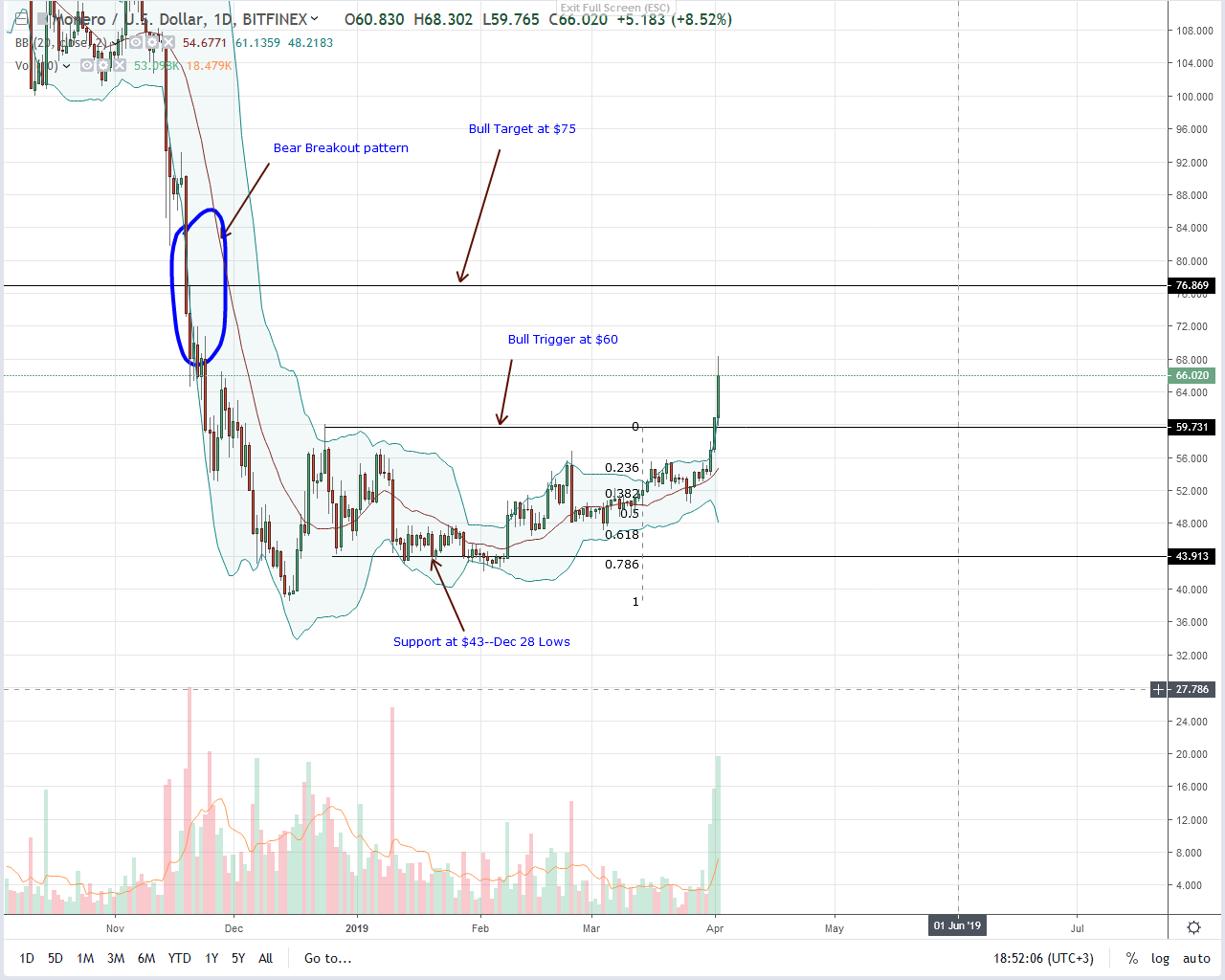 Monero (XMR) is up 27 percent in the last week and 12 percent in the day outperforming similar assets. However, from candlestick arrangement, there is more room for upside now that Bitcoin (BTC) prices are rallying.
Besides the Bitcoin effect, XMR is trading within a bullish breakout pattern, and after today's bar, we will have a whole bull bar closing above our main buy trigger level. Already, momentum is picking up as full bar band along the upper BB after bouncing off the 78.6 percent Fibonacci retracement level of Dec 2018 high low.
Technical Indicator
A look at transaction levels reveals participation. After the reversal of Mar 21 losses—10k by Mar 31—30k bull bar, the ground was set for buyers. What we now have are high volume bull bars banding along the upper BB complete with high transaction volumes exceeding those of Feb 24, our anchor bar marking $60 resistance.
Chart courtesy of Trading View