Bitcoin Begins A New Week In Green, Swift Recovery In The Weeks Ahead
Bitcoin (BTC) has finally begun a new week green after a long time. Most cryptocurrency investors and enthusiasts had already made their peace with red Mondays the past few months. However, that trend now seems to have changed as EUR/USD's new outlook points to a trend reversal in the weeks ahead. The big correction is now finally over. If we look at the daily chart for EUR/USD, we can see that EUR/USD entered a major correction around June 2018. That is when Bitcoin (BTC)'s correction took another turn and resulted in an extended correction that took six more months to complete. It is no secret now that Bitcoin (BTC)'s price action on higher time frame is a direct reaction to the price action on EUR/USD. If the Dollar (USD) goes up, Bitcoin (BTC) goes down and vice versa.
The Euro has completed its major correction just this month as the price has now found support atop a historical trend line. THis means that the EUR/USD is expected to continue to rise over the weeks ahead. The price will still run into a long term resistance but that is around late 2019. So, before that, we can expect the price to rally. Bitcoin (BTC) may not be able to reach a new all time high just yet but the price may still climb above $6,000 this month and reach $13,000 during 2019. Again, all of this is only possible if the EUR/USD outlook remains as bullish as it appears at this stage. If we look at the EUR/USD chart, we can see that if the price had broken straight through the historical resistance without entering a correction, Bitcoin (BTC) would now be trading close to $100,000.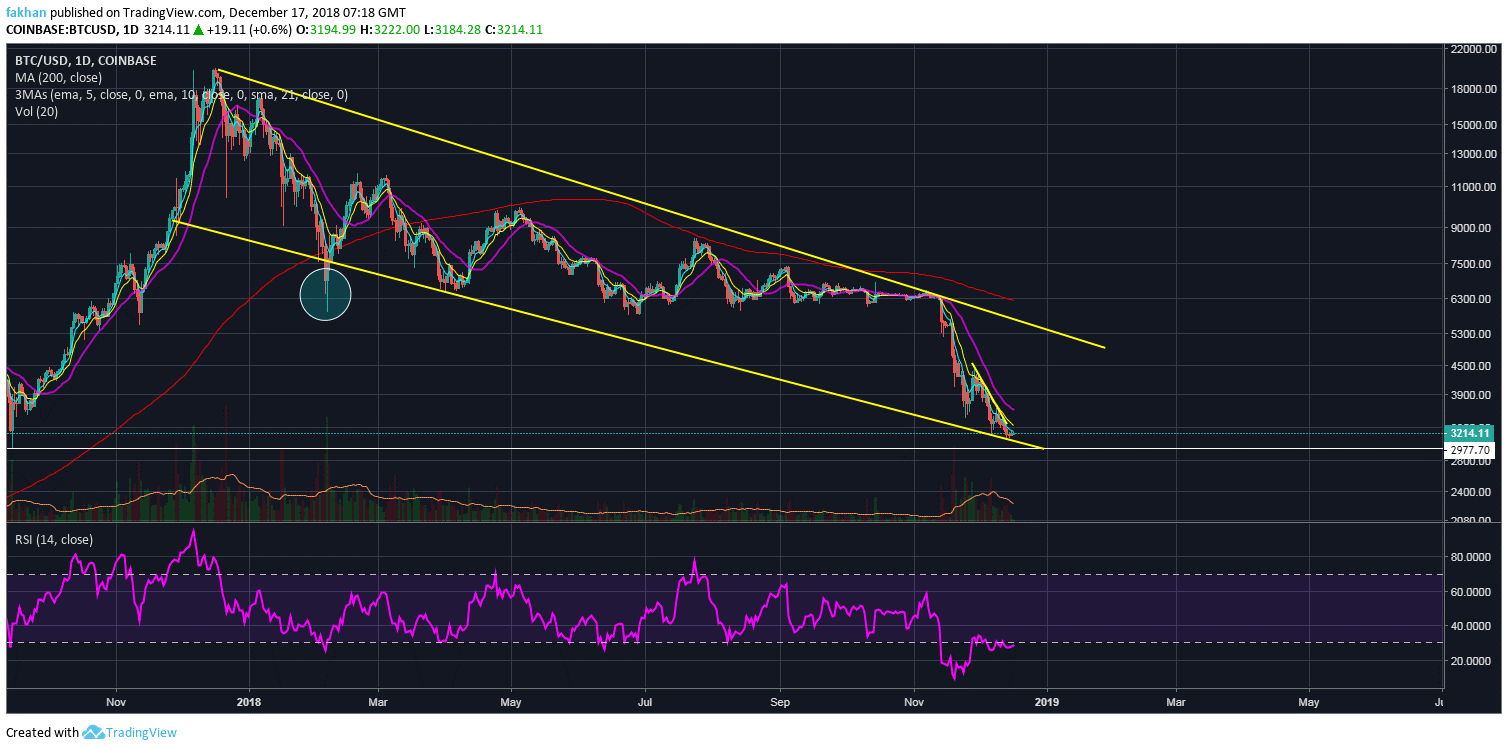 This correction has allowed Bitcoin (BTC) investors more time to fill their bags. Investors who have been following other markets in addition to Bitcoin (BTC) markets and understood the correlations in advance, they might be in a far better position than the average investor who just looks to the price of Bitcoin (BTC) and makes a wish. Investing is not about making a wish; it is about making smart choices and hedging your bets while paying attention to risk management. As long as EUR/USD continues to rise, we should be able to see a rise in BTC/USD. During the last few years, a lot of people mistakenly compared Bitcoin (BTC) to Gold. This is what led them to believe that even if the stock market is falling, Bitcoin (BTC) would rise.
However, as we found out, Bitcoin (BTC) is nothing like Gold, at least not at this point. It's a highly speculative asset that can be classified as closer to emerging markets than commodities at this point. We are still far away from the time when Bitcoin (BTC) will actually be considered as a hedge against unstable and risky market. Bitcoin (BTC) is itself a part of a risky and unstable market: cryptocurrencies. This correction has set the ground for a more sustained rise from current levels, one that will see adoption grow over the years to come.