Ripple Price Analysis: XRP up 5.1 percent, Extra Liquidity From Binance
Latest Ripple News
While Sep 2018 saw XRP prices expand 400 percent from lows of 25 cents and at one point printing 90 cents, its growth didn't go unnoticed. At current prices, XRP is the second most valuable coin in the space overtaking ETH for the first time since the launch of the former back in 2015. Its infrastructure has continued to grow but the government involvement and investor apprehensiveness to invest in projects has seen its overall valuation shrink.
On the other hand, the constant promotion of Ripple and XRP by the ever-vibrant community is paying dividends. Changpeng Zhao's Binance will make XRP base weeks after an XRP enthusiast requested the world's largest exchange to follow through and make XRP base.
We will be adding a couple trading pairs with XRP as the quote currency shortly.

And rename ETH markets to ALTS market. Running out of space on the UI.

Merry Xmas!
5,110 people are talking about this
It not only means added liquidity as investors would easily convert their altcoin, ETH or BTC holding in exchange for the more stable XRP but it will go a long way in reducing the over-reliance on BTC and ETH. If anything, this is part of the decoupling Brad Garlinghouse was talking about early this year, and this is a significant milestone for XRP, Ripple and Ripple Labs.
Ripple (XRP/USD) Price Analysis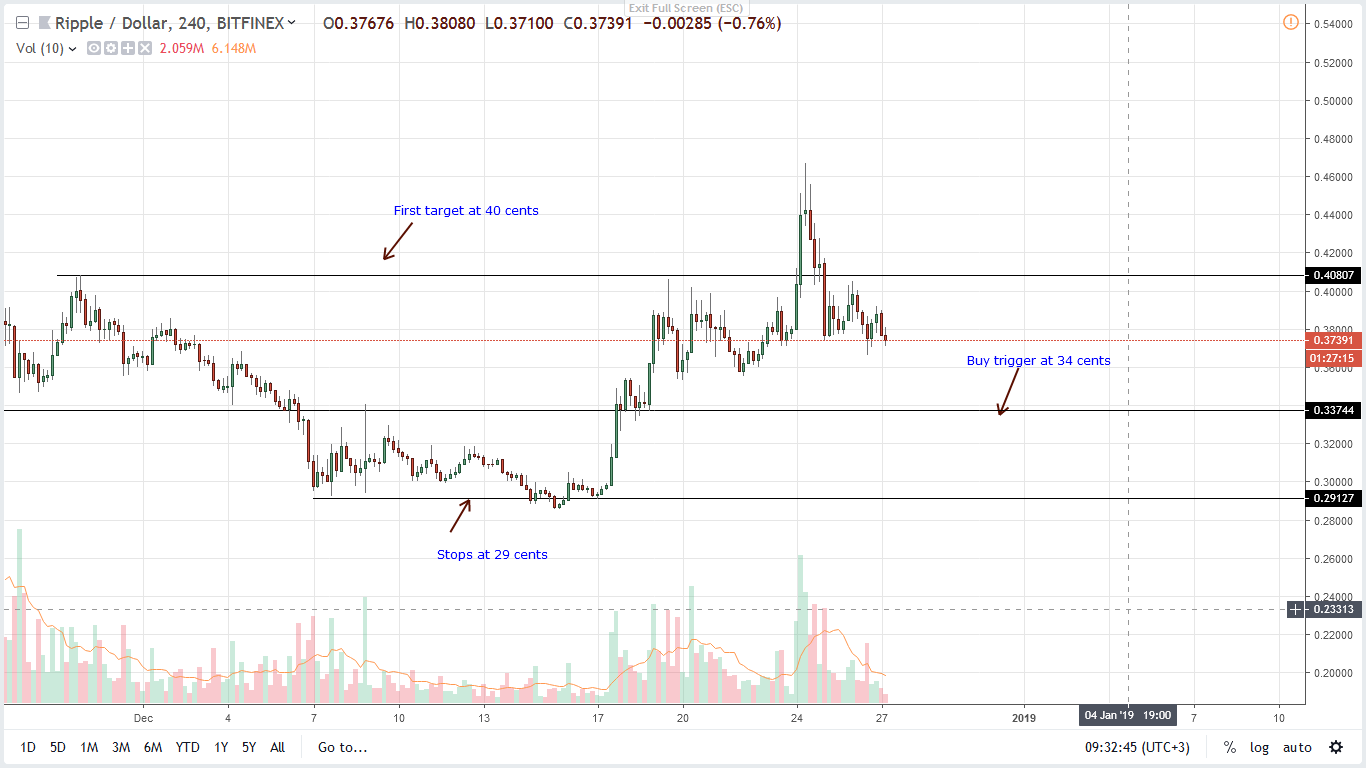 As long as XRP is trading above 25 cents, then bulls are in charge and traders should be looking for buying opportunity on every dip. At spot prices, XRP is exchanging hands at 37 cents and is up 4.1 percent in the last week. It stable in the previous day but considering events of the week ending Dec 23, bulls are in charge in line with late Sep 2018 bulls.
From previous XRP/USD price analysis, we suggest patience until after there are solid moves above 40 cents. Preferably, this move up should be at the back of high volumes exceeding Dec 24 average of 20 million.
If that prints out later today then bulls should find buying opportunities on every pull back with the first target at 45 cents and after that 60 cents with safe stops at 35 cents.
Our XRP/USD trade plan will be as follows:
Buy: 40 cents
Stop: 35 cents
Target: 45 cents, 60 cents
All Charts Courtesy of Trading View
Disclaimer: Views and opinions expressed are those of the author and aren't investment advice. Trading of any form involves risk and so do your due diligence before making a trading decision.