Ripple Price Analysis: XRP Drop to Third, Coins Moved to OTC Distribution Wallets
Latest Ripple News
Margins are tight, and after a five-month stint at second, XRP is back to third. Despite high volume activities which XRP and Ripple sleuths point to "abnormal" movement of coins to Ripple owned Escrow addresses. For example, on Jan 1, 2.9 billion worth of XRP worth $1.1 billion at market prices were moved to several OTC Distribution and Escrow wallets for mere cents.
As expected, movements of such magnitude can be a cause of speculation and even unfounded hype—rumor now has it that Ripple is on the verge of striking yet another partnership. However, note that Ripple offers escrow services. It is on top of the decentralization plan in place.
500,000,000 #XRP (177,226,199 USD) transferred from Ripple Escrow wallet to Unknown wallet

Tx: https://bithomp.com/explorer/E24D595D92009528896027138AFCB51129B91244108AC35610DC119F9604312A …
Besides, this is not the first time large quantities of XRP are changing hands. As aforementioned, Ripple's Escrow Feature is where parties can lock up their stash for a fixed period or until when certain conditions happen. Ripple explains saying:
"We use Escrow to establish 55 contracts of 1 billion XRP each that will expire on the first day of every month from months 0 to 54. As each contract expires, the XRP will become available for Ripple's use. You can expect us to continue to use XRP for incentives to market makers who offer tighter spreads for payments and selling XRP to institutional purchasers. We'll then return whatever is unused at the end of each month to the back of the escrow rotation. "
Ripple (XRP) Price Analysis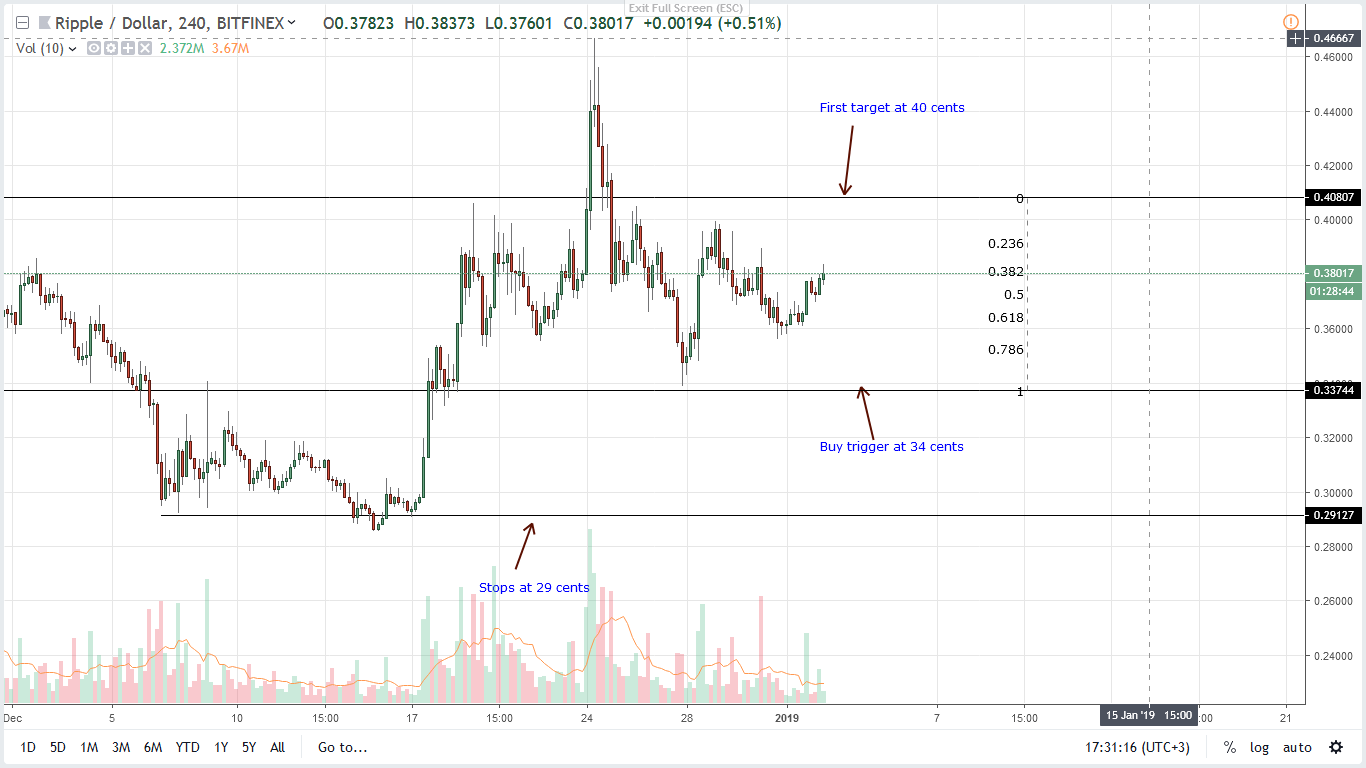 With a market cap of $14.78 billion, XRP is the third most valuable coin in the space. While prices caved in last year sliding more than 85 percent after peaking in late Dec 2017 and early Jan 2018, the shift in momentum in mid-Sept 2018 means we are bullish XRP.
Because of fundamental reasons—the movement to OTC Distribution addresses as mentioned—and technical considerations, we expect prices to edge higher in line with our previous XRP/USD trade plans. However, for bulls to be in charge, there must be hints on the chart, and that means above average volumes must accompany the up thrust above 40 cents as those recorded in Mid-Dec 2018.
That will not only confirm the ecstatic buys of Dec 17 and 24 but will set the ground rolling for further gains above Dec 2018 highs of 48 cents. This is our XRP/USD trade plan:
Buy: 40 Cents
Stop: 37 Cents
Target: 45 Cents, 55 Cents, 80 Cents (Sep 2018 Highs)
All Charts Courtesy of Trading View
Disclaimer: Views and opinions expressed are those of the author and aren't investment advice. Trading of any form involves risk and so do your due diligence before making a trading decision.