FACEBOOK LIFTS BAN ON CRYPTOCURRENCY, BUT STILL BLOCKS ICOS
Anyone who has tried to use Facebook advertising is familiar with the many terms and regulations, from the copy to the visuals to the URL. So it was hardly surprising when Facebook drew another line this past January and this time with cryptocurrency. Now, in June, it has reversed much of the ban, but it continues to exclude initial coin offering (ICO) ads.
THE BACKSTORY
On January 30, 2018, Facebook launched a new policy against deceptive marketers banning all advertisements for cryptocurrency and related content. The goal was to counter misleading and deceptive ICO and cryptocurrency ads. Scams and volatile price fluctuations have come at a high cost to many people, bringing Facebook to take more severe measures to "improve the integrity and security" of their ads, and to make it harder for scammers to profit from a presence on Facebook." The FTC reports a $532 million loss for consumers to cryptocurrency-related scams in the first two months of 2018, and these losses are projected to grow beyond $3 billion by the end of the year.
Product management director Rob Leathern had commented: "We want people to continue to discover and learn about new products and services through social Facebook ads without fear of scams or deception. That said, many companies are advertising binary options, ICOs, and cryptocurrencies that are not currently operating in good faith." That is why Facebook will not accept any more ads that "promote financial products and services that are frequently associated with misleading or deceptive promotional practices."
Thanks to a few rotten apples in the tree, this means that no advertiser will be able to promote any cryptocurrency, not even the legitimate businesses. Ads that violate this policy will be banned on Facebook's core app, as well as Instagram, its ad network Audience Network, which places ads on third-party apps, and other places where Facebook sells ads. Of course, anytime new rules are formed, human ingenuity will always find loopholes.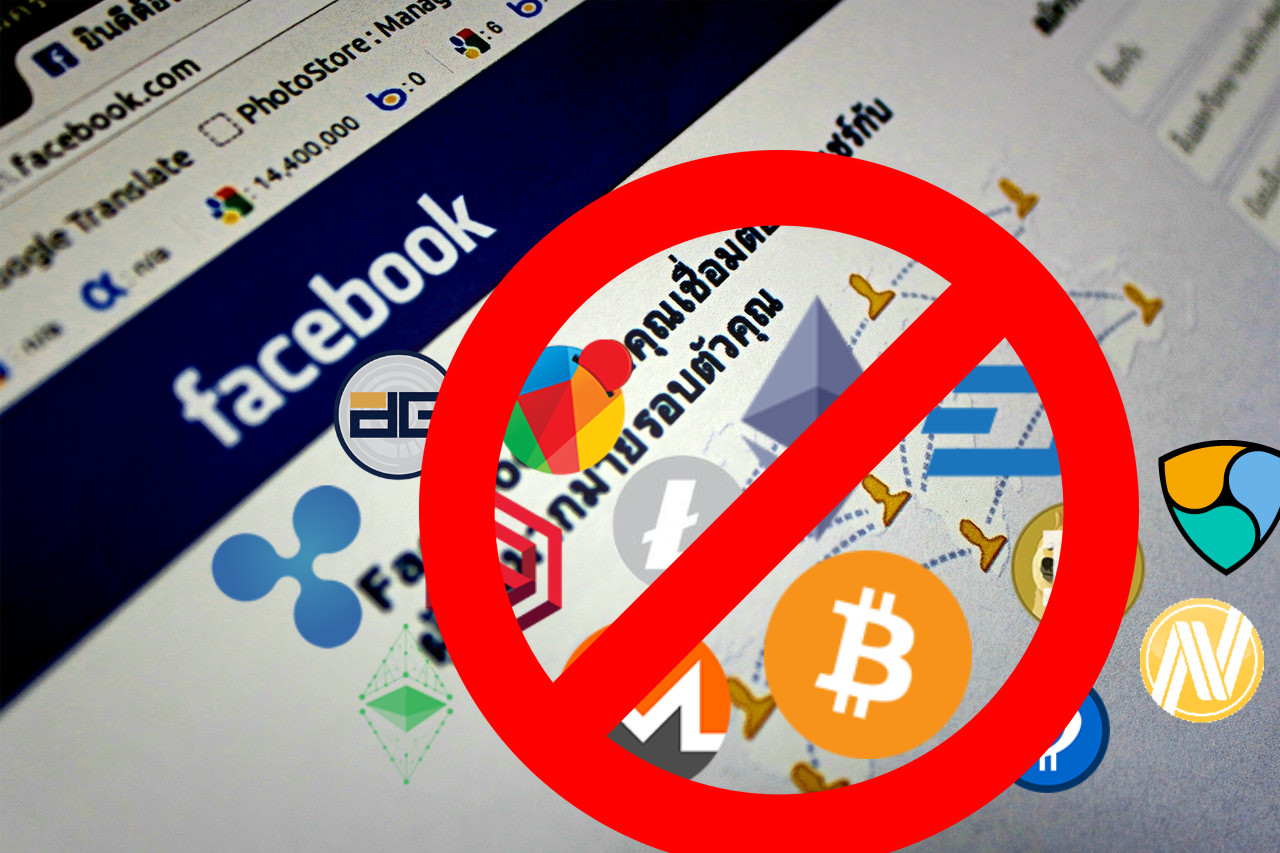 OTHER PLATFORMS FOLLOW SUIT
By March, Google and Twitter hopped on board with the ban, although Twitter does show ads for exchanges and wallets provided by publicly traded companies. Major Chinese web companies such as Baidu, Tencent, and Alibaba have already been banning these kinds of ads for a short while before any of these American tech giants started doing so. The impact of these policies is notable; companies serving as marketplaces and exchanges for virtual currencies are shut out from 70 percent of the world's digital ad market. Microsoft's search engine Bing is the biggest ad platform option allowing cryptocurrency ads. Snap allows cryptocurrency ads but not ads for cryptocurrency ICOs.
BAN REVERSED, SORT OF
For the Facebook company, the decision was not intended to be permanent, and when launching the new policy, the social media giant explained its plans to revisit this decision in the future as their ability to catch inappropriate ads improves. Now, that is precisely what's happening. As of June 26, Facebook announced that it will accept ads for cryptocurrencies as well as their related content. This is a big deal as it gives back a huge advertising platform to the cryptocurrency industry that can help it reach a mass audience.
But it's not going to be easy for advertisers; they will need to be vetted before they can post anything. Ads that promote binary options and ICOs, however, are still banned. To receive permission to run crypto ads, Facebook may require seeing "licenses they have obtained, whether they are traded on a public stock exchange, and other relevant public background on their business." Facebook has also published a legal addendum that describes its policy toward cryptocurrency ads.
Leathern explained in his post on Facebook's blog, "Advertisers wanting to run ads for cryptocurrency products and services must submit an application to help us assess their eligibility—including any licenses they have obtained, whether they are traded on a public stock exchange, and other relevant public background on their business. Given these restrictions, not everyone who wants to advertise will be able to do so."
He further explains, "It's important that we continue to help prevent or remove misleading advertising for these products and services," and calls on users to report any content that violates their Advertising Policies.
Facebook's growing interest in the legitimacy and future of cryptocurrency may have something to do with the recent lift on the ban. Earlier this year they launched their blockchain team to explore the technology for themselves, starting with a messenger-style app. There are also rumors that Facebook is planning on launching its own cryptocurrency. If Facebook does plan to enter the blockchain and cryptocurrency space in the future, it makes sense to lift the ban. The revenue potential with cryptocurrency ads is also difficult to miss out on.
FINAL THOUGHTS
The ban of cryptocurrency ads and its related content by major companies shows that ongoing skepticism and mistrust toward this still nascent industry. It also demonstrates how much the industry needs public trust to thrive, as the price of Bitcoin dropped shortly after the ban. Facebook's reversal, or lightning, of the ban, suggests that this trust can be gained as more stakeholders work and become more familiar with this innovative technology. And its policy is likely to continue to evolve, along with its understanding of the industry. Leathern commented, "But we'll listen to feedback, look at how well this policy works and continue to study this technology so that, if necessary, we can revise it over time."
Embracing crypto and blockchain can propel forward not only the industry but the companies that work with it. Founder of crypto public relations firm Ditto PR, Trey Ditto, described Facebook's shift as "the first step in allowing credible blockchain projects, crypto companies, and ICOs to get in front of new potential customers and investors…This will be a big boost for Facebook advertising revenue as the majority of projects out there are interested – and have the money – to run paid ads."
Still, ICOs, in particular, have a lot of work to do with gaining the trust of the regular and institutionalized investor. It will be interesting to watch how different companies continue to move forward.
"This article was originally published at MintDice"
https://www.mintdice.com/blog/facebook-lifts-ban-on-cryptocurrency-but-still-blocks-icos