Everyone On Wall Street Thinks Everyone Else On Wall Street Is Long Bitcoin… But Almost None Are
Once upon a time the Bank of America Fund Manager Survey served a useful indicator of what finance professionals did and thought. Then, over the years, it became a survey which revealed what the prevailing consensus narrative was  – if not what respondents actually did – as survey participants merely answered question in line with what they thought was the right answer. Unfortunately, since then it has devolved further to the point where it is mostly noise with very little signal.
Take the latest Fund Manager Survey (FMS) released today by BofA's Michael Hartnett, which took place between Jan 8 and 14, and polled 194 participants with $561bn AUM. While we will have a more indepth take on the findings of the latest FMS, one thing stuck out: the question what is "the most crowded trade" where there was a material change.
After 8 months when the dominant answer to this question was "Long Tech", for the first time in three years the prevailing response was "Long Bitcoin"…
… with 36% of responses while Long Tech dropped to second spot with 31% (short USD was 3rd with 23%).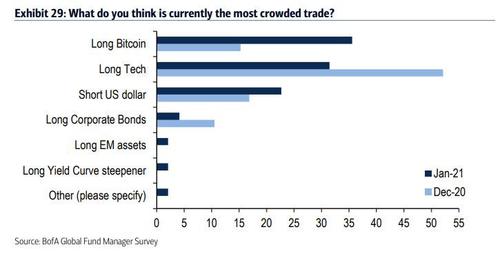 Why was this response odd? Well, a few reasons: while Wall Street is not limited in its exposure to virtually any other asset class, when it comes to bitcoin virtually no firms are permitted to own bitcoin outright for regulatory reasons, and while few specialized firms are long bitcoin futures – which remain highly illiquid – the GBTC, or Grayscale Bitcoin Trust (not an ETF but rather an open-ended grantor trust) is widely viewed and used as the only vehicle to express a bullish (or bearish) position in bitcoin since the SEC has yet to greenlight a bitcoin ETF.
Well, here's the issue: with bitcoin trading at roughly $37,500, having a market cap just shy  of $700 billion, the market cap of GBTC is a tiny $26 billion, or less than 4% of the value of the underlying. In other words,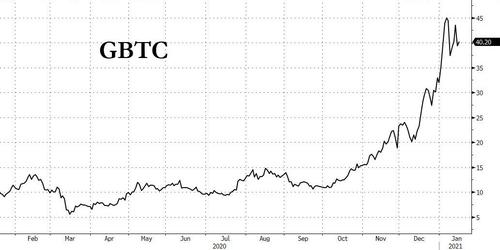 Putting GBTC in context with Bitcoin's market cap: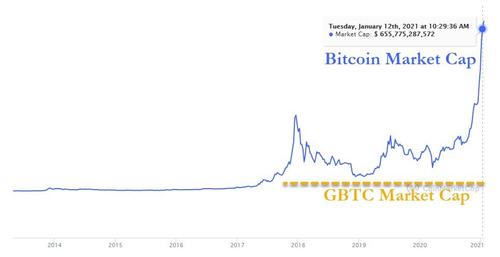 What about futures? Well, according to the latest (record) open interest there is a whopping…. $2.3BN in bitcoin futs open interest.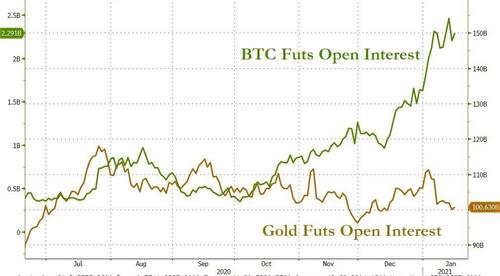 In other words, bitcoin may be the "most crowded trade" in the imaginations of Wall Street professionals – perhaps due to its tremendous ascent, largely driven by whale and retail participation – but it certainly is not the most crowded street on Wall Street, where simply as a result of the limited array of assets available to Wall Street to go long (or short) bitcoin, the true level of exposure is a tiny fraction compared to other far more crowded positions.
Perhaps this is just Wall Street projecting, jealous of 16-year-old Robinhooders (who have recently purchased lambos) who truly are long cryptos, even as most professionals refuse to chase the cryptocurrency ever higher while piling into such bubble names as Tesla.
Meanwhile, just because tech has gone nowhere in the past month does not mean it is any less crowded. In fact, one can argue that tech still is the most crowded trade on Wall Street – it certainly is if only looks at 13F filings and current hedge fund and bank holdings – and as more traders get exasperated by the lack of a breakout in tech, what we will likely see is even more upside in bitcoin as more do in fact crowd into bitcoin.
As a final point, inasmuch as there may be some signal value to the BofA survey, the last time traders – again erroneously – viewed bitcoin as the most crowded trade, was back in December 2017. The cryptocurrency crashed the next month. The only difference this time is that whereas back then the surge in crypto was entirely on the back of retail and Asian hot money, this time we do have some – a decidedly small number – institutions starting to pile into crypto, which is why we are confident that this time around, the BofA survey will not mark the top, just as it didn't when it called out long tech as the most crowded trade back in May 2020 – tech proceeded to soar for another 8 months after…
BY TYLER DURDEN