Ethereum (ETH) Very Likely To See A Double Digit Price In The Weeks Ahead
Bitcoin (BTC) is overbought on the weekly time frame but not as overbought as Ethereum (ETH). The 1H chart for ETH/USD shows that the price has been repeatedly testing the support it dropped below yesterday as a strong resistance now. This resistance has very low odds of being breached especially when the Stochastic RSI on the 1H timeframe is this overbought. The trend line support that extends back to since the beginning of this rally remains a strong support so far but it is not likely to hold during the next crash. The S&P 500 is at a very vulnerable point and is likely to embark upon its next bear trend as early as next week. This would be disastrous for Ethereum (ETH) as well as other altcoins.
Some analysts and mainstream media outlets were quick to call for a rally towards $200 when the price pumped after a whale spread 20,000 worth of Bitcoin (BTC) buy orders on some exchanges to trigger a buying spree. However, very few people analysts discussed what it would mean to get to that $200 mark. There are a lot of strong resistance zones along the way which means Ethereum (ETH) will not only have to break past them but also the strong resistance zone that came into being after ETH/USD broke below market structure in November, 2018. To think that Ethereum (ETH) could shoot towards $200 piercing such a strong support under extremely overbought conditions as these is nothing short of ludicrous. However, as we mention time and again in our analyses, the majority is wrong most of the time which is why only a small proportion of traders make money while the majority ends up losing money.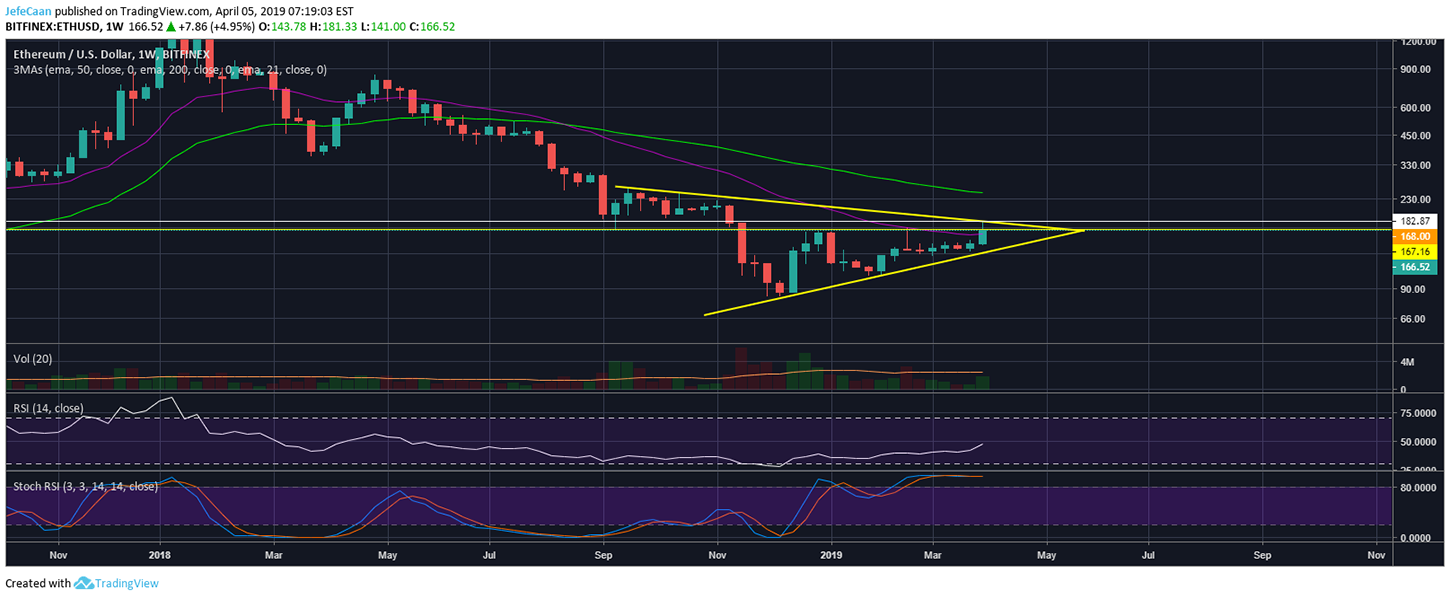 If we look at the weekly chart for ETH/USD, it seems like someone stacked up all odds against Ethereum (ETH) to completely eliminate any chances of a break above the previous market structure around $182.87. There is a strong trend line resistance that the price has failed to breach so far. Then there is the 21 week exponential moving average that the price could close below by the end of the week. Next, we have the Stochastic RSI trading close to 90 which is extremely high. There is no doubt whatsoever that Ethereum (ETH) will see a sharp decline to the downside, sooner or later. Considering that all the odds are stacked up against it at the moment, we expect the price to close below the 21 week EMA as well.
The bear pennant on the weekly chart also points to the strong probability of a fall to a double digit price. Considering the state the price is in at the moment, we would expect it to settle around $60 during its next decline. Either that or the price will have to trade sideways for a long time to see the Stochastic RSI cool off before the next rally can begin. Considering that Bitcoin (BTC) is due for further downside, we expect altcoins to follow suit which means Ethereum (ETH) is very likely to see a drop to double digits in the weeks ahead.