Ethereum (ETH) Tumbles To A New Low Against Bitcoin (BTC)
Ethereum (ETH) has just declined to a new low against Bitcoin (BTC). We have not seen it declined this low against Bitcoin (BTC) since the beginning of the bear market. It appears that ETH/BTC is now prepared to decline to the pre-bull run levels of 2017 effectively erasing most of its gains. Needless to say, things do not look good for Ethereum (ETH) and the rest of the altcoin market. Investors still have some hope in Bitcoin (BTC) as it is holding its ground better compared to Ethereum (ETH) but they have no confidence in Ethereum (ETH) which is shown by the price action. ETH/BTC broke a key support against Bitcoin (BTC) in the beginning of July and since then it has been in a steady decline.
We can see that the price did not even attempt to retest the support as it declined. In fact, it is now eyeing a decline towards the bottom of the descending channel. Before the price touches the bottom of this channel, there is no hope because there is no strong support that could save the pair from falling that low. When it reaches the bottom of this channel around the end of the year, we might see some short term relief. We expected Bitcoin (BTC) and the rest of the market to bottom before June, 2020 and that seems to be in motion now. It is not clear yet how that is going to affect coins like Ethereum (ETH) and whether or not they might rise to a new all-time high again but it is quite clear that these coins have yet to see maximum pain and that they will in the weeks and months ahead.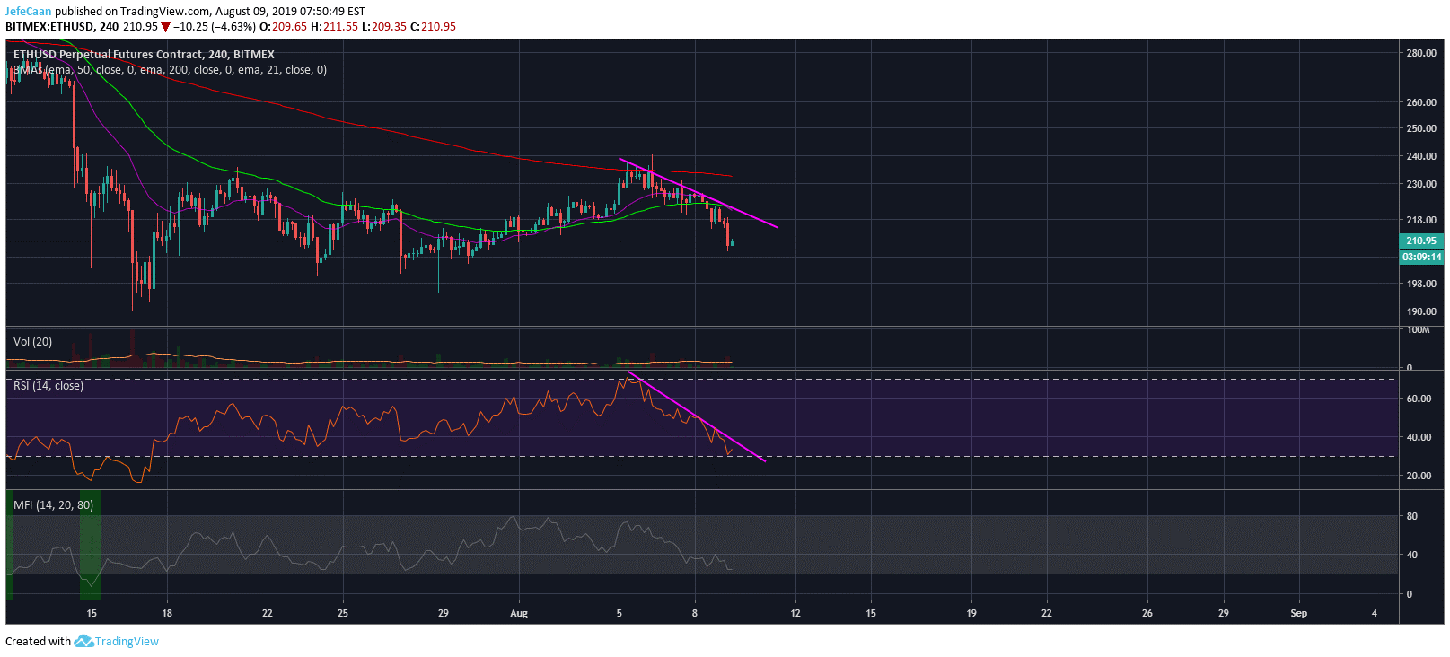 The 4H chart for ETH/USD shows that the price of Ethereum (ETH) has tanked brutally in the past 24 hours. It is now trading around $211 and could plunge below $200 anytime now. It is pertinent to note that we are not going to just fall slightly below $200 this time; the price is going to tank a lot lower than that and it is going to end up finding a bottom at a double digit price. We expect this to be around $50-$60 but it could fall lower.
If Ethereum (ETH) closes the day around current level, it will accelerate its downtrend. When this week began, we said that Ethereum (ETH)'s move to the upside towards $240 was a fake rally just to shake out the bears because we had just seen the price close below the 21 Week EMA and it did not make much sense to see the price go that high amid all the bearish signs. However, whenever the market is too obviously bearish, the market makers give the bears a run for their money. That is what happened this time as well, most of those bears with tight stops around obvious levels were shaken out and now the price is doing what it was supposed to do in the first place.