Crypto Market Sentiment Ends Its Winning Streak; Bitcoin Back to Neutral
The market sentiment cut its string of gradual, week-per-week growth. After four weeks of minor upward movements, and last week's break into the 5-6 score level with a sentscore of 5.27, this Monday the combined moving average 7-day market sentiment measure, sentscore, for the top 10 coins dropped slightly to 5.2/10, as measured by crypto market sentiment analysis service Omenics.
Though the drop is small, the overall changes in the top 10 list are quite visible. Half of the coins are in red, while three coins are in the 4-5 range compared to last week's two. Out of the three, Bitcoin Cash (BCH) fell again this week and is now on the verge of the negative zone. Meanwhile, Bitcoin (BTC) dropped out of the positive zone it had finally reached last week, and it's now standing at 5.9.
Now leaving the combined moving average weekly sentscore to look into that of the last 24 hours, we see both a better and a worse situation at the same time. The sentscore itself is up to 5.5, Bitcoin is in the positive zone with 6.4, all coins but BCH have scores above 5 with Ethereum (ETH), Tezos (XTZ), and Chainlink (LINK) being on the verge of the positive zone, and even BCH is in a better situation as it's 0.3 points further away from the negative zone. That said, all but Tether (USD) are red.
Sentiment change among the top 10 coins in the past week*:
Interpreting the sentscore's scale:
– 0 to 2.5: very negative
– 2 to 3.9: somewhat negative zone
– 4 to 5.9: neutral zone
– 6 to 7.49: somewhat positive zone
– 7.5 to 10: very positive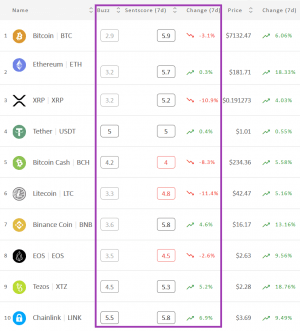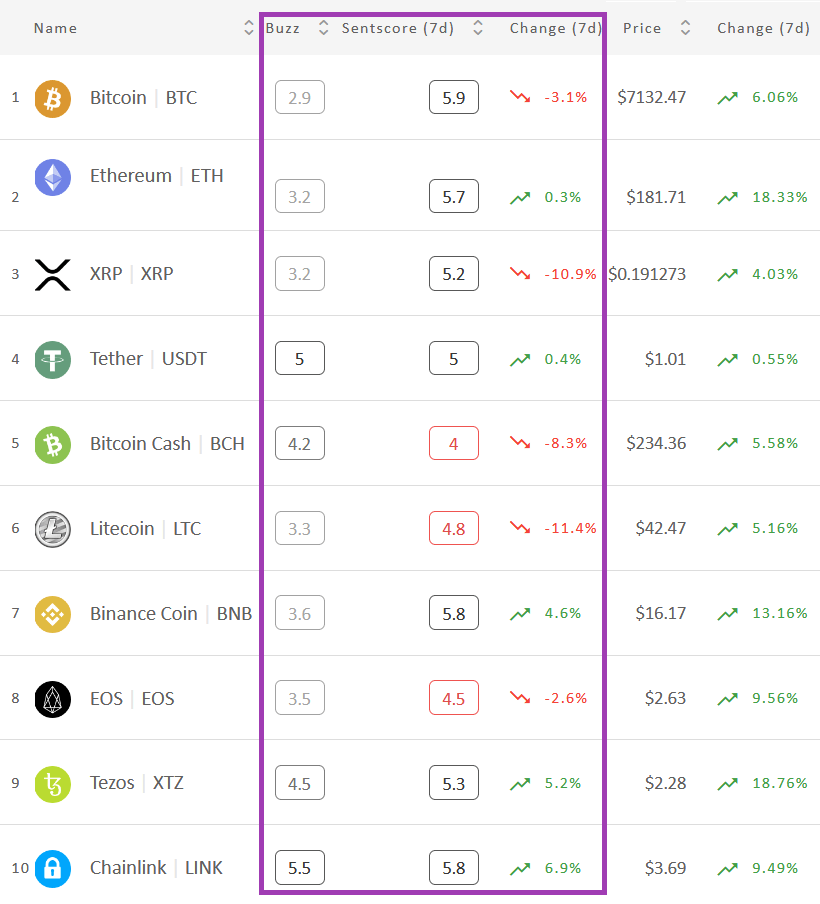 Among the equal number of winners and losers over the past seven days, we find that Link's and Tezos's scores have risen the most, 6.9% and 5.2%, respectively, though Binance Coin (BNB) is quite close with 4.6%. Link has quite high scores overall. Its highest are positive scores of 7.7/10 in technicals, and 6.1 in news, followed by the neutral 5.6 in buzz, 5.3 in social, and the lowest, but still neutral score of 4.1 in fundamentals. Tezos has somewhat lower scores, though it too has positive ones in news and technicals – 6.9 and 6.5, respectively. Its social got 5.1 and buzz 4.5, while its fundamentals received a negative score of 3. Lastly, BNB, as the two predecessors, was given positive scores is news (7.5) and technicals (6.1). It also received neutral scores in fundamentals (5.5) and social (4.4), as well as a negative score in buzz (3.6).
Daily Bitcoin sentscore change in the past month: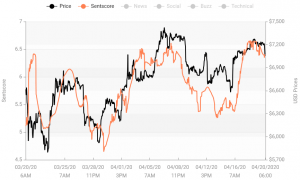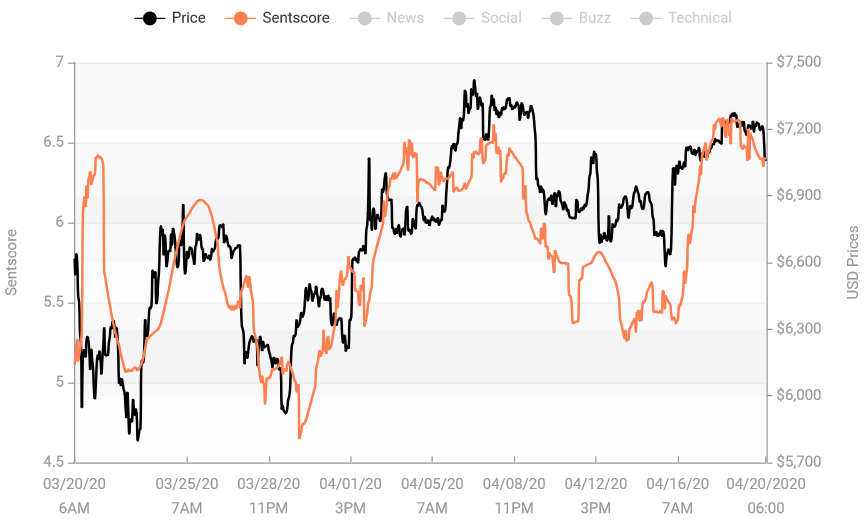 The losses were larger than the gains, and two coins have seen double-digit drops over the last week, these being: Litecoin (LTC) with -11.4% and XRP with -10.9%. Litecoin's social was scored with 5.8 and news with 5.5, while the rest of its aspects were scored lower: 4.1 in fundamentals, 4 in technicals, and 3.3 in buzz. Lastly, XRP's strongest aspect is news with a score of 6, followed by 5.4 in social, 4.9 in technicals, and 4.3 in fundamentals, while its weakest aspect is buzz with a score of 3.3.
Besides these 10, Omenics rates 29 other coins. Looking at these in the past seven days, we find only six green ones, while the scores of other twenty-three have dropped. Eleven, compared to last week's fourteen have scores above 5, and one is in the negative zone again – this time not Komodo (KMD), but Steem (STEEM).