CRYPTO FAQ: HOW TO CREATE A CRYPTOCURRENCY
Creating a cryptocurrency is a good way to put a unique spin on how things are generally done. For example, Bitcoinis changing how money is transferred from one place to another, Ripple is focusing on banks and Stellar is aimed at the unbanked. Other platforms like Ethereum and EOS are providing different options to host applications. Cryptocurrencies tackle existing problems and are created for different reasons.
Why would anyone want to make their own cryptocurrency? One way to look at it is by acknowledging that several digital currencies are heavily centralized. This means that to some degree, they are controlled by several parties and are intended to power certain products offered by these parties.
Although these currencies use blockchain technology, they are not structured to be as decentralized as Bitcoin. One good example is Ripple, which has faced several accusations of centralization in the past for maintaining control of the network.
As you can imagine, such products – from crypto games to payment platforms – stand to generate massive revenue if successful. Creating a digital currency is just like starting any other company and is no longer as complex as it was when Bitcoin emerged. Many people have done it and you can do it too.

1. UNDERSTAND THE BASICS OF CRYPTO
Before anything else, anyone looking to create a cryptocurrency must have a firm understanding of cryptocurrency and blockchain, and how it all works. Even if you plan to outsource the development of your cryptocurrency, it's important to carry out extensive research and learn the basics of crypto first.
This ensures that you can weigh the pros and cons effectively before investing resources into the project. You also learn how different types of cryptocurrencies function as well as what type will be best suited for your goals.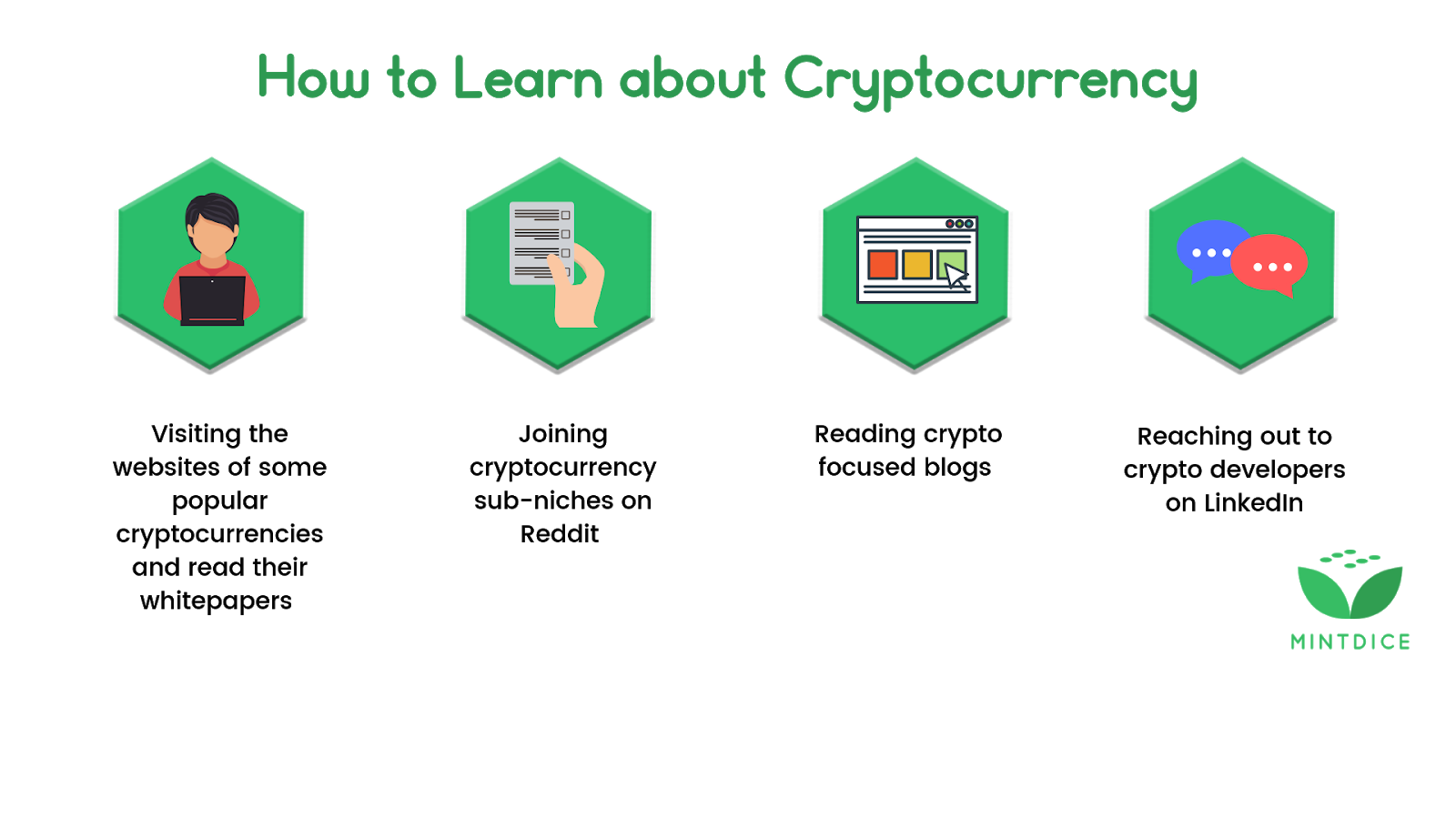 You can learn more about crypto by:
Visiting the websites of some popular cryptocurrencies and read their whitepapers. Although whitepapers contain many technical details, they also explain the thought process, design and operation of the digital currency in question. The Bitcoin whitepaper is a great place to start since it was the first one in existence.
Joining cryptocurrency communities on Reddit. These communities, more commonly known as subreddits, are a more social way to learn about cryptocurrency. You can interact with other people who have the same interests and view different opinions on digital currency.
Reading a crypto-focused blog like Mintdice.
Reaching out to crypto developers on LinkedIn. Connecting with crypto developers and asking them about some of the more technical aspects of cryptocurrencies is a great way to learn about them. There's no better person to give you an opinion on cryptocurrencies than someone who has developed them.
2.  BUILD A BLOCKCHAIN
After extensive research, you have to create a blockchain or another foundation for your cryptocurrency. In most cases, it is a blockchain; Although rare, Directed Acyclic Graphs and other cryptographically secured data structures have been used as a foundation for cryptocurrencies. Since blockchains are the most popular option, it's better to stick with them.
There are two ways to go about this step. You can build your blockchain from scratch by watching tutorials on Youtube or Medium. The next best thing is to fork an existing blockchain. This means that you can modify the open-source code of an existing currency like Bitcoin.
You can tweak it to suit your preference, name it something else and use it. Most blockchain open-source codes can be found and accessed on Github. Alternatively, you can develop your product on the Ethereum blockchain, which is built to hold decentralized applications; however, you need to have coding skills and experience to do so.
Building or forking a blockchain is not as simple as it sounds. If you've never programmed software, especially with Javascript, then you will find it difficult. Even Ethereum development requires knowledge of Solidity, its custom programming language. For better and faster results, you may want to outsource the process to experienced software developers.
3. BUILD A CUSTOM TOKEN
Blockchains are merely a database for holding transaction records for whatever products are being developed. These transactions occur through the exchange of a central token or coin, so after building a blockchain, you have to create a custom token. You can give it any name as long as it relates to the name of your blockchain platform.
Walletbuilders and CryptoLife are examples of platforms that allow the average non-developer to create custom coins or tokens. You can create your parameters such as a logo, fee structure, etc.
Alternatively, outsourcing may be a better option, especially if the token will have any complex functions.
4. CREATE A MAINTENANCE PLAN AND ROADMAP
Continuously revisiting and upgrading your cryptocurrency gives it a better chance against its competition. If you look at Ethereum, Ripple and almost every other top cryptocurrency, you'll see a comprehensive roadmap of upgrades and developments. This is necessary for sustaining your product.
In the early stages, it is advisable to stick to the necessary updates instead of making any grand changes to your code. This saves money and allows you to take things one step at a time until you figure it out completely.
5. MARKET YOUR TOKEN
Many cryptocurrencies have failed because they never reached their target market, even with solid products. The importance of marketing a cryptocurrency cannot be overemphasized. There are several ways to go about this. You can choose to:
Publish press releases on popular cryptocurrency blogs. These can range from hundreds to thousands of dollars depending on the popularity of the site.
Discuss your cryptocurrency on social media platforms like Reddit and Twitter.
Pro Tip: anonymously compare your cryptocurrency to a more popular one with similar features on a Reddit thread to start an argument. This will ensure that anyone who wants to contribute to the argument researches your coin first.
Use the services of an ICO marketing firm. This is the best way to go when you plan to raise funds by offering your coins in a public sale.
Offer your coins through an exchange. Exchanges get the most traffic in the cryptocurrency industry so an initial exchange offering increases your chances of being noticed by millions of people.
Book a slot to unveil your cryptocurrency at a crypto conference.

There are three main challenges you may encounter when creating a cryptocurrency: the difficulty of the development process, security risks, and the possibility of failure.
The development process is extremely difficult if you don't have a lot of experience writing software code. Not only do you have to build a back-end for your blockchain, but you also need a front-end that users will interact with. Your token has to work well with your blockchain and you must ensure that there are no security loopholes that can be exploited by attackers. Outsourcing to someone who has experience creating cryptocurrencies that have worked well solves this challenge. However, if your budget can't cover it, you may want to try an enterprise blockchain solution like Truffle, Solc or Solium.
As with any other software product, cryptocurrencies come with their own security risks. By choosing a good protocol from the beginning and regularly checking for bugs, security risks can be mitigated.
Many crypto products solve problems that not many people have. If yours does the same thing, it will most likely fail. Analyze your reasons for creating the cryptocurrency in the first place and ensure that you have an airtight product.

There are thousands of cryptocurrencies in existence. It's not uncommon for people to venture into the industry by creating their own coins to solve problems while competing within the market.
Creating your cryptocurrency will most likely cost thousands of dollars, so it has to be well thought out. First, you have to be sure that your reason for creating one isn't bogus. Ask yourself several questions: Is there a better way to solve the problem without creating a coin? Do you realistically see a future for it?
If you've analyzed the situation and can say beyond doubt that creating a cryptocurrency is necessary, then the steps explained above should be sufficient to create a functional cryptocurrency. If you're only looking to build one as a side project, then it may be fun to experiment with different protocols and see how they fit your goals.
"This article was originally published at MintDice.com"
https://www.mintdice.com/blog/crypto-faq-how-to-create-a-cryptocurrency?page=1