Could Ripple (XRP)'S Next Big Move Result In Decoupling From Bitcoin?
Ripple (XRP) is a lot different than most cryptocurrencies for a number of reasons. First of all, it does not use blockchain technology. Instead, it uses distributed consensus ledger using a network of validating servers. Second of all, Bitcoin (BTC) is supposed to be digital gold and a store of value while Ripple (XRP) is just a digital currency aimed at making payments faster and cheaper. It is quite obvious that both of them actually have quite little in common apart from both being called cryptocurrencies. Now, this decoupling debate is not new. We have seen it come under discussion many a time in the past especially around times when Ripple (XRP) was likely to make a big move against Bitcoin (BTC). While most cryptocurrencies have also topped out against Bitcoin (BTC) just as they have against the US Dollar (USD), the same cannot be said of Ripple (XRP).
The weekly chart for XRP/BTC shows that Ripple (XRP) still has plenty of room to rally against Bitcoin (BTC). The MFI indicator has recently flashed a buy signal which is another positive sign for Ripple (XRP). However, investors need to be cautious as we have seen Ripple (XRP) decline against Bitcoin (BTC) despite being massively oversold in the past. That being said, if Ripple (XRP) were to decouple from Bitcoin (BTC), this would be one of the best times to expect it. Apart from technical and fundamental differences with Bitcoin (BTC) and other cryptocurrencies, the Ripple (XRP) community is also a lot different. Most Ripple (XRP) enthusiasts consider Bitcoin (BTC) to be an old and outdated cryptocurrency that will eventually be replaced by Ripple (XRP) as the faster and cheaper way to send and receive money.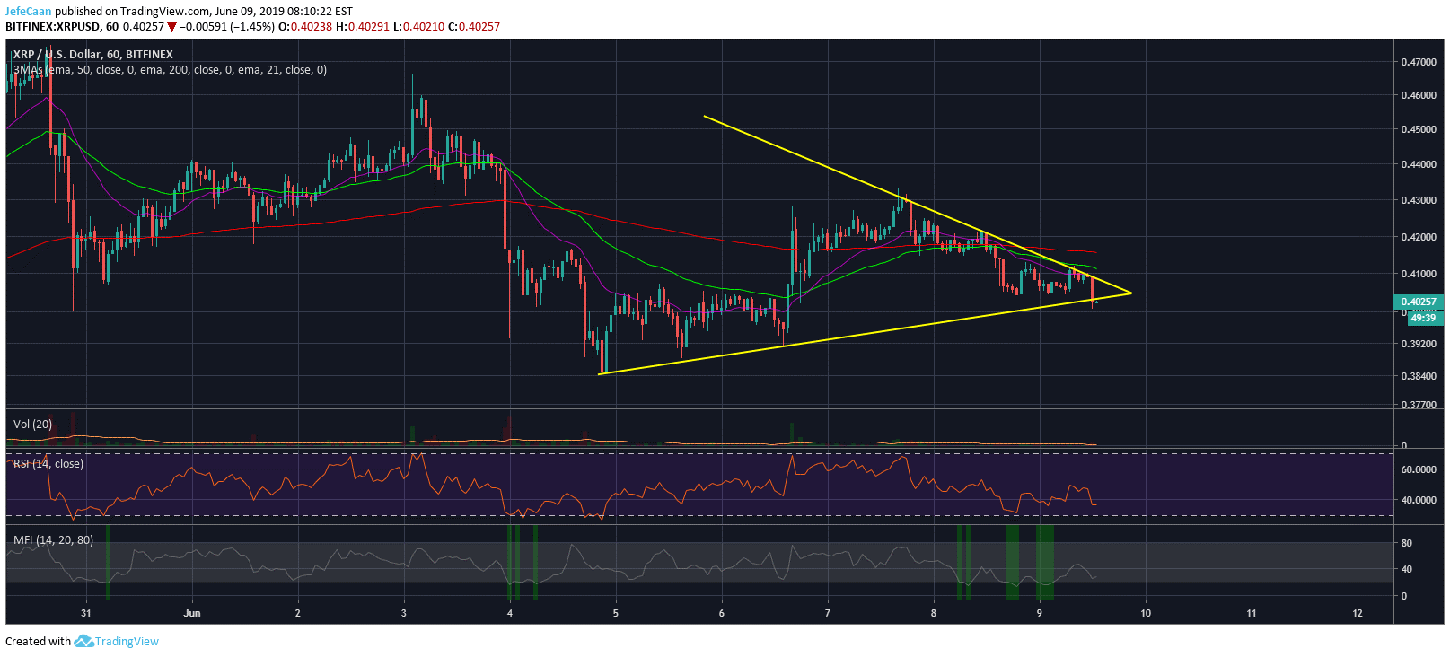 Ripple (XRP) is on the verge of a big move against the US Dollar (USD). Considering that the price is near oversold territory on the 1H time frame for XRP/USD, we expect the price to continue rallying from here regardless of which way it breaks out. The Money Flow Index also supports our view that XRP/USD still has plenty of room to rally. Thailand's largest commercial bank recently tweeted about using Ripple (XRP) but it retracted its tweet soon afterwards. Ripple (XRP) has also been flooding the market with its XRP supply lately.
It is hard to say yet how that has affected the price but it is reasonable to say that Ripple (XRP)'s price is more controlled than many other cryptocurrencies. For those looking for stability like big banks or financial institutions this might eventually be a good thing. However, for those looking for consistent growth, it may not be good news. Ripple (XRP) has a history of making most of its gains in a short, unexpected time frame. This is why most Ripple (XRP) investors are hodlers who hold their coins in anticipation of that next big move. While Ripple is a wonderful company, it should be clear to investors that investing in Ripple (the company) and XRP (the token) is not the same thing.