Can Ethereum (ETH) Preserve Its Gains After The Surprising Rally?
Ethereum (ETH) has made a surprising rally that has taken the community by surprise but it is unlikely that this rally will have the momentum to preserve its gains. RSI on the 4H time frame has now run into a trend line resistance and shows a bearish divergence. The price has also faced strong resistance at the top of the ascending channel and has now retraced. This fake out was expected as a possibility because the bears had become too comfortable shorting Ethereum (ETH) within the descending triangle. A decline at stages like these is never too obvious and as we have seen this has taken many bears by surprise that aggressively shorted Ethereum (ETH) near the top of the trend line resistance. When ETH/USD found support atop the 50 MA on the 4H chart that should have been taken as a warning sign for shorting the cryptocurrency at this point.
We mentioned in our last analysis on Ethereum (ETH) that the price had room to rally. As we expected, the price rallied hard and has now run into resistance. This is the fake out rally that has intimidated most retail bears but we do not expect the price to come back down just yet. In fact, ETH/USD might take its time to consolidate around these levels while Bitcoin (BTC) remains indecisive. The price could retrace slightly to test the previous trend line resistance as support but it is not likely to enter back into the descending triangle anytime soon. Ethereum (ETH) investors are over the moon once again taking this as a sign of bullish revival when all it is just good old manipulation that has been going on this market since its inception.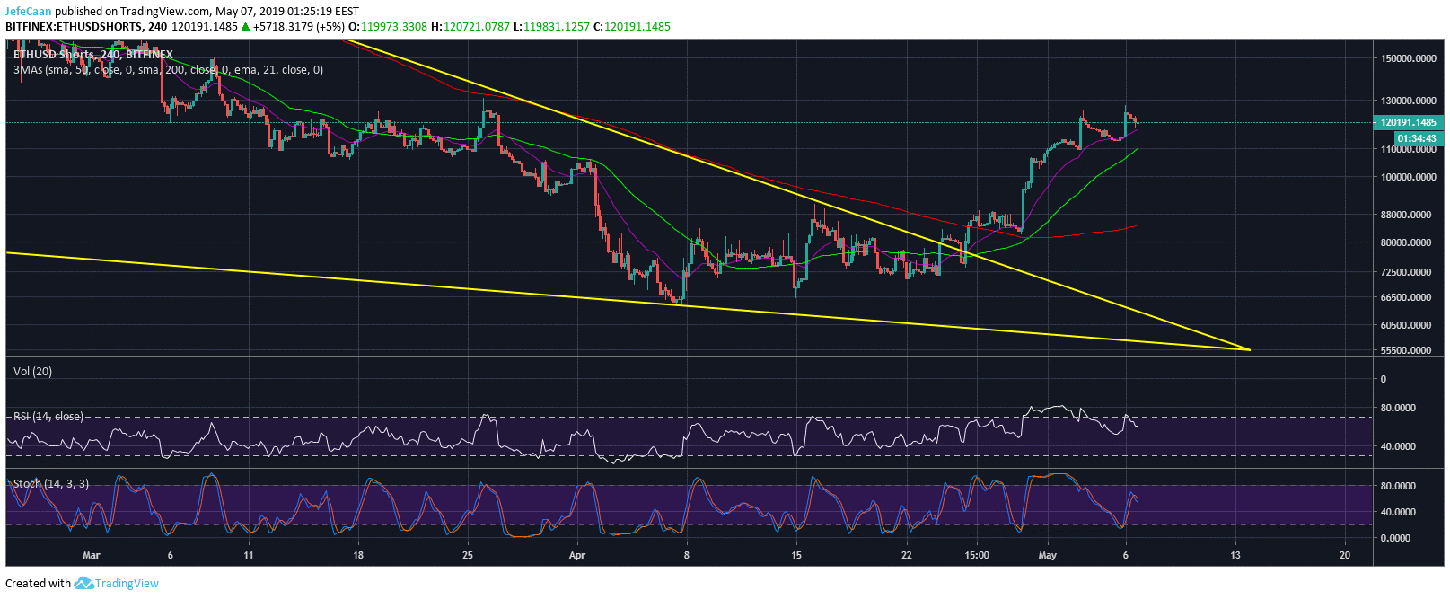 It is a good sign to see the price rally but this is not a rally. It is just a flat pump that has seen the price print a long candle in a few minutes. This has been happening frequently in the past few weeks and we have seen what follows after this. However, the retail bulls most of whom are already holding big bags with deep losses are eager to see ETH/USD reach its previous all-time high sometime soon so they can empty their bags. This is all it is about for most people at this point. They are buying now so they can sell it to another sell at a certain price.
Certainly, this is the way it works in any market but not when everybody is focused on just turning in a quick profit. That is usually a strong indicator that we are not there yet and the market is poised for further downside. The 4H chart forETHUSDShorts shows that the bears are still confident as ever and do not seem to be affected at all by the recent pump in Ethereum (ETH). As the price continues to trade sideways for long, we might see the number of margined shorts decline but the possibility of a short squeeze is very insignificant after the recent move. If this could not trigger a short squeeze when ETH/USD is trading well below the resistance zone, it will be too hard to trigger a squeeze around higher levels.