Bitcoin Won The Store Of Value Battle, Now Altcoins Must Justify Their Existence
After a rough week for crypto, Bitcoin managed to defy expectation by breaking $6k resistance. With this, Bitcoin dominance is also up, to 58% at the time of writing, a level not seen since the last bull run. Naturally, Bitcoin maximalists are pleased with how 2019 is panning out so far, but what does this mean for altcoins?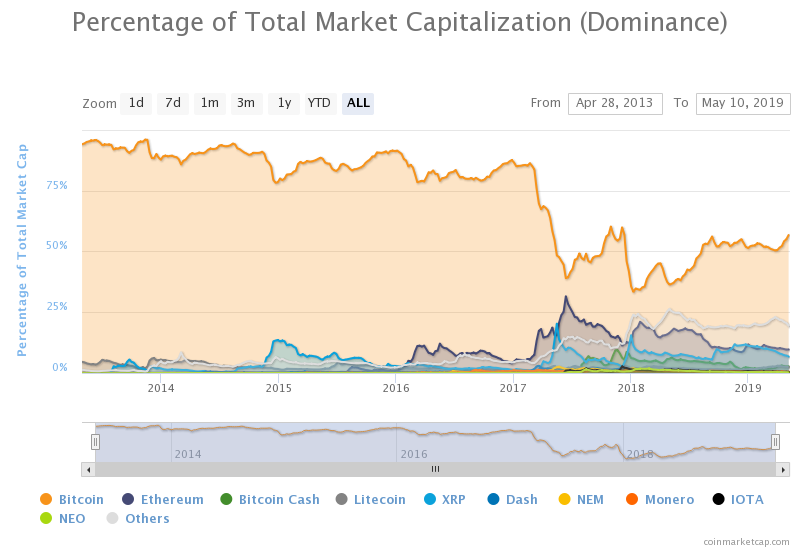 Bitcoin Dominance Is Rising Against The Altcoins
Following April's price jump, market sentiment has continued to remain bullish. Yesterday's breakout has only added to expectations of an end to the bear market. And all signs point to that.
For example, Binance Research recently released a chart on YTD returns of major asset classes. It shows Bitcoin as the best performing asset, with crude oil and tech stocks making second and third place respectively. Not only that, but taking into account the recent spike, Bitcoin's YTD is closer to 70% return since January 1.
Given Bitcoin's strong performance of late, talk, once again, is on Bitcoin dominance. CEO of Galaxy Digital, Mike Novogratz speaking to Bloomberg before yesterday's price spike, said Bitcoin had won the battle for store of value:
"We're going to struggle around 6,000 for a while, we're going to take out 6,000 and be much higher. What's interesting is, we had this bubble, everything went up, it was all store of value. And when it was all store of value, you had unlimited supply coming in…And then the market got rational. The only store of value in the market right now is Bitcoin. It doesn't need to change. It is gold…And all the other cryptos [are disadvantaged because they] have to prove use case."
Will Altcoins Rise Again?
Not only must alts justify a use case, but given changes in the market place, "winging it" is no longer enough. Speculative investors, with little knowledge or interest in the underlying tech, exited during the bear market. Those left are generally sophisticated investors who are clued up on value indicators, terminology, and TA.
The death of over 900 altcoin projects and the continuing struggle of many more is not a coincidence. Now, the market has a greater awareness of what's valuable, projects with no fundamental value will continue to die.
Speaking about the relationship between Bitcoin and the alts, crypto advocate and CEO of The White Company, Elizabeth White said:
"Altcoins used to be the ultimate speculative play in 2017, as soon as Bitcoin rose, people took profits and moved to altcoins hoping they would follow. The market quickly adjusted and in 2018 everything moved together, both up and down. The majority of speculative altcoins (i.e those outside the top 20) will end up thinly traded and die off because most of them have not done anything and have completely failed to realize their promises."
And if past performance is anything to go by, a rise in Bitcoin price should also mean a surge in altcoin price. But this time around, taking into account improved market knowledge, perhaps there will be a decoupling of this relationship. And useless projects will fade away as Bitcoin takes off.