Bitcoin Starts Its Series of Hitting All-Time Highs
After an accelerated bull run this past weekend, on Monday, the most popular cryptocurrency, bitcoin (BTC) started revisiting its all-time highs (ATHs). (Updated at 15:41 UTC: updates throughout the entire text).
Per Coingecko.com, BTC hit USD 19,686 today, surpassing its previous ATH of USD 19,665, reached on December 16, 2017.
At pixel time, BTC trades at USD 19,579 and is up by 8% in a day and 6% in a week.
However, as reported by Cryptonews.com, bitcoin's ATH means different things to different people and companies, depending on who you ask.
On Coinpaprika, a crypto market research platform, BTC reached a high of USD 20,089 on December 17, 2017. Binance-owned CoinMarketCap has the bitcoin ATH at USD 20,089 reached on December 17, 2017. Wikipedia says that the BTC price peaked on December 17 at USD 19,783.06.
Mati Greenspan, who is at the helm of Quantum Economics, also observed the nuances in bitcoin's all-time high price, saying that it's "different depending on what chart you're looking at." He provides a range of USD 19,666 to USD 20,155, with Bitstamp at the low end and eToro at the high end.
BTC price chart: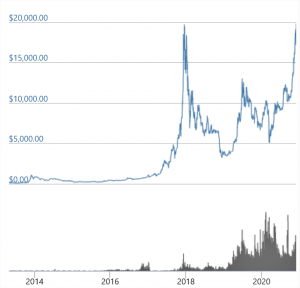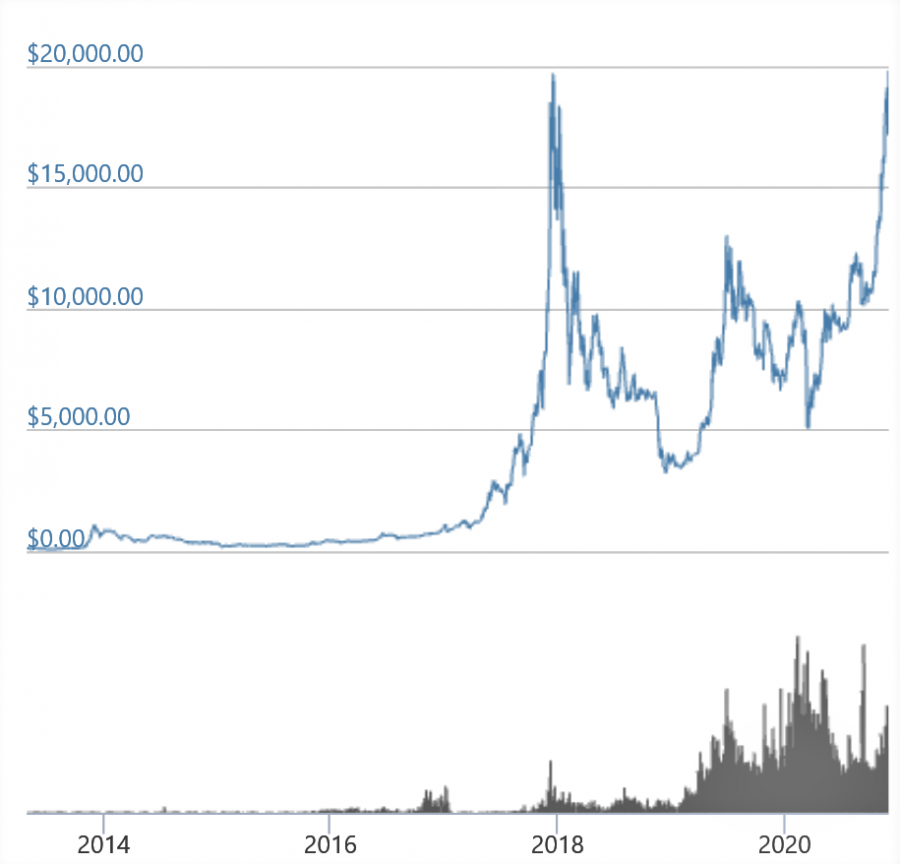 "Bitcoin's ascent today to a new all-time high of USD 19,844 will captivate," Paolo Ardoino, Chief Technology Officer at the Bitfinex exchange, said in an emailed comment. "Still, of far greater consequence are the fundamentals giving fuel to this rally, notably the increasing presence of institutional investors. Bitcoin is still nascent and even relatively small allocations into the asset class from investment funds can have a seismic impact."
"We are continuing to see increased interest from institutional investors," Henri Arslanian, PwC Global Crypto Leader in Hong Kong, told Bloomberg, adding that institutional investors now are able to get access to digital assets via multiple players that are regulated.
"Bitcoin has its best opportunity to move higher in the present environment because the Chinese aren't as fearful as they were in the past," ST Capital's Louis Curran told Bloomberg. "Now we're starting to see the yuan strong on its own fundamentals so there's less incentive to cap bitcoin."
Top 10 cryptoassets and their all-time highs: