Bitcoin Price About to Hit $6,000 with More Institutional Investors Entering Market: Bloomberg
Bitcoin's price seems like it's about to reach the $6,000 mark, says data from CoinMarketCap. The rally that has recently started continues with the crypto community closely watching the charts.
Will BTC get over $6,000?
For the first time since November 2018, Bitcoin's price has been recovering to such a high level. At press time, BTC is at $5,929, intending to take the $6,000 level as soon as possible.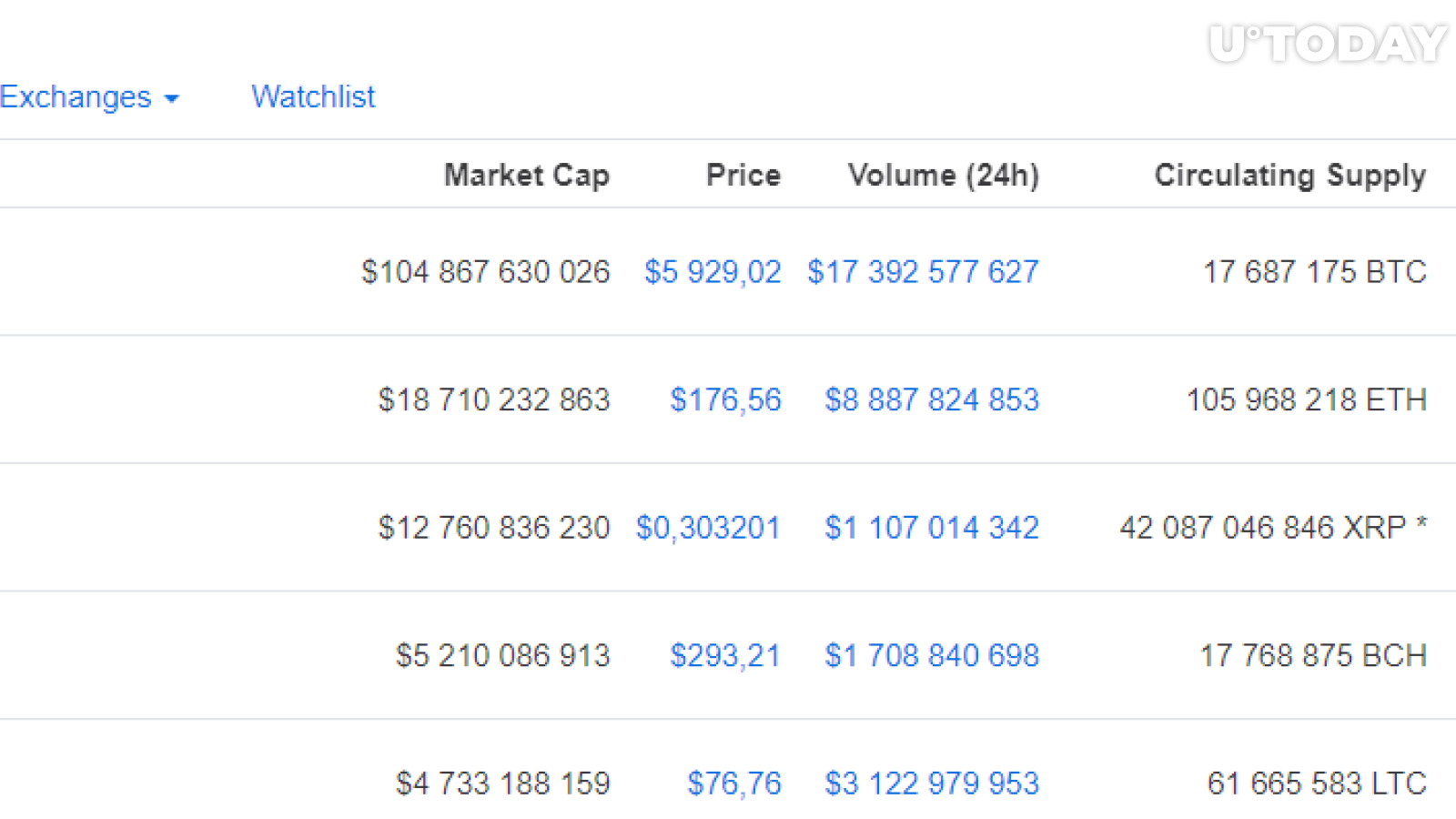 This morning, the price of the most popular coin rose over $5,960, as per Bloomberg composite pricing, increasing by nearly 5 percent. The rest of the top ten assets have also been enjoying the sea of green but they were just following the locomotive of the BTC quotes.
As of now, Bitcoin is doing its best to recover its losses of over 70 percent suffered since the start of 2018, and the whole community is watching the charts attentively.
The second best-performing coin on the top ten at the moment is Ethereum. ETH is rising by 8.05 percent on news that the US CFTC is about to approve the launch of Ethereum futures.
Previously, U.Today reported that the community expects the price to hit $6,400 to see the confirmation of a new Bitcoin rally.
Institutional involvement increases
As per Bloomberg, Jehan Chu from Kenetic Capital believes that more and more hedge funds and other financial institutions are entering the crypto market, buying into Bitcoin and BTC-based assets.
"We're just seeing institution after institution lining up to the thesis of digital currency, and Bitcoin is the standard bearer."
Recently, media reported that Fidelity Investments plans to start trading BTC for its corporate clients. Previously, the company offered only crypto custody services.
The community began hoping that this new major player would initiate the next bull run.
However, Chu reckons that Fidelity alone will not make a change. On the other hand, Fidelity along with Robin Hood, E*Trade and other financial giants will – by making way for great numbers of corporate customers into the crypto market.