Bitcoin Price Analysis: BTC Bullish Above $3,700, Overstock Path Paving
Latest Bitcoin News
Aside from Bakkt, the never-ending wait for US SEC to comment or even approve Bitcoin ETF, the crypto and Bitcoin sphere is bereft of market-moving news. True, there are essential updates from time to time and what dominates right now is Overstock plans of "paying" their commercial activity taxes (CAT) using Bitcoin in the US State of Ohio.
In a statement, the founder of Overstock, Patrick M. Byrne said:
"The Company is proud to partner with forward-thinking governments and officials like Ohio and Treasurer Mandel to help usher in an era of trust through technology for our nation's essential financial systems."
By working with a crypto payment processor, BitPay, Ohio became the first US state to embrace cryptocurrency allowing businesses to pay for 16 types of taxes by first liquidating their Bitcoin or Bitcoin Cash stash at BitPay.
Josh Mandel, the Treasurer at the State of Ohio and the chief agitator credited for making this possible applauded Overstock saying:
"Overstock is the first national brand in America to register to pay taxes via cryptocurrency. Their embrace of blockchain technology was ahead of its time, and we're proud to have them join OhioCrypto.com."
Payments are via the OhioCrypto.com, a platform that fast-tracks payment of state taxes. For clarity, the state doesn't handle any crypto payments and BitPay like any third-party processor will sell the BTC for USD after charging a small fee.
Bitcoin (BTC) Price Analysis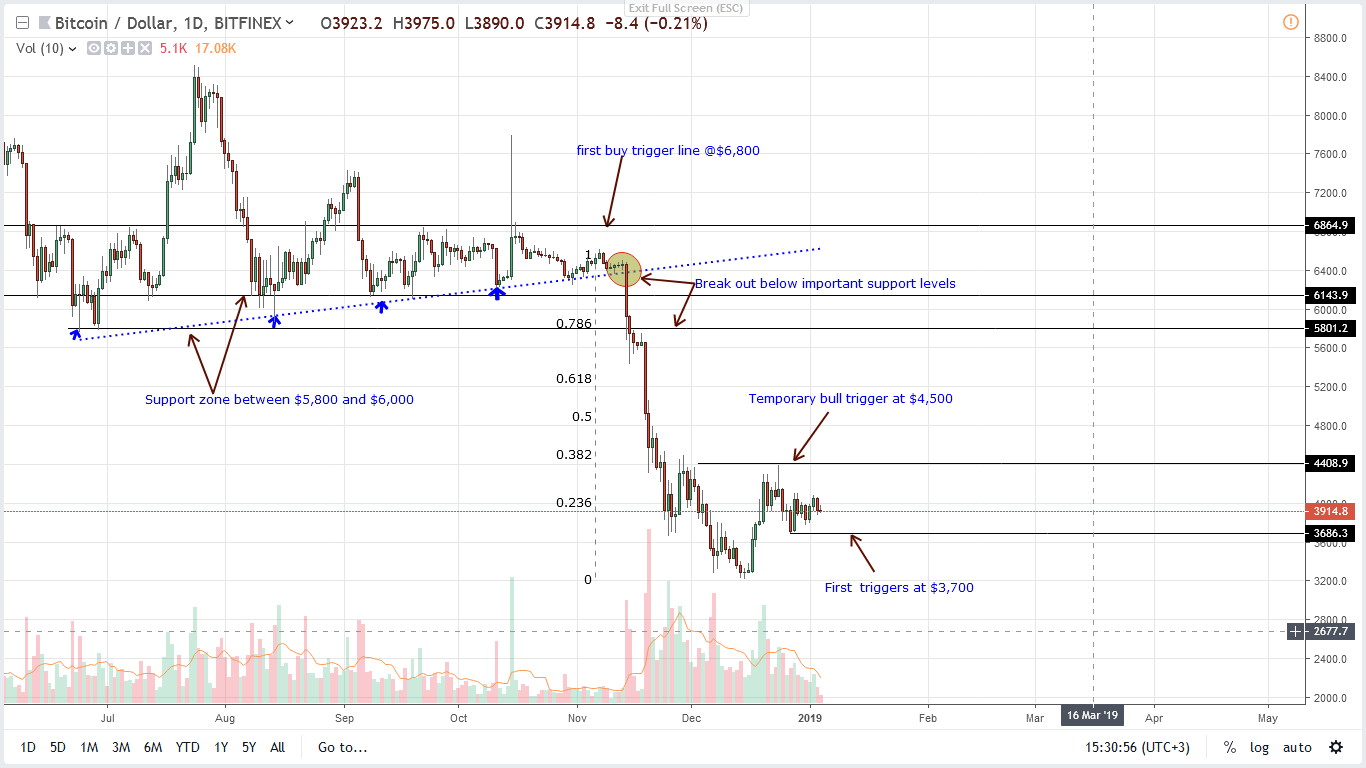 At spot prices, BTC is up five percent against the USD but is struggling to edge higher in the daily chart. As mentioned in previous BTC/USD trade plans, we shall retain a bullish outlook in the near term but bearish when we take a top-down approach. It's easy to see why BTC has been in a downtrend for the last 12 months.
Furthermore, the pair is trading within a bear breakout pattern with clear barriers at $6,000. Therefore, the level is of interest in our analysis and the only trigger for higher highs is if prices break above $4,500 in sync with our previous iterations.
Only then will there be trend continuation confirming higher highs of mid-late Dec 2018–when prices rallied from $3,220 to $4,400. If not and BTC prices drop below Dec 28 lows, then we might see further depreciation towards 2018 lows.
Our BTC/USD trade plan is as follows:
Buy: $4,100, $4,500
Stop: $3,700, $4,000
Target: $4,500, $6,000
All Charts Courtesy of Trading View
Disclaimer: Views and opinions expressed are those of the author and aren't investment advice. Trading of any form involves risk and so do your due diligence before making a trading decision.